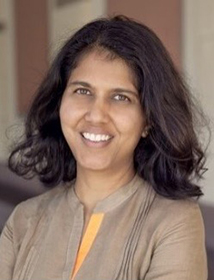 Vice Dean for Health Ecosystem; Executive Director Factor Health, University of Texas Austin Dell Medical School
As Vice Dean for the Health Ecosystem, Mini Kahlon, Ph.D., drives the Dell Medical School enterprise focus on innovation to improve health outside the clinic, addressing the broader drivers of health, including food and nutrition, physical activity, behavioral change, and social isolation. She also oversees Dell Med's work to advance new health products, drugs, devices, diagnostics, and digital health tools, leveraging the diverse strengths of The University of Texas at Austin and the entrepreneurial ecosystem of Austin.
Kahlon is also the founder & director of Factor Health, a real-life health provider network that tests and builds businesses that improve health outside the clinic. Factor Health launched in early 2019 in Austin in partnership with the Episcopal Health Foundation and expanded to Houston in July 2019.
As founding vice dean, Kahlon was integral to the launch of Dell Med in 2014, leading the creation of a vision and mission to match the unparalleled opportunity in Austin to remake health. Subsequently, she has driven the development of a fourth pillar for academic medicine at Dell Med, one that structurally and financially begins to prioritize the investment in innovations necessary to demonstrate local impact and address non-clinical drivers of health.
A systems neuroscientist by background, Kahlon brings diverse experience to drive the transformation of our health system, from health care IT and informatics, consumer software, and networking startups to social impact NGOs focused on education. IT initiatives she has led have received a range of awards, from The University of California's Gold Sautter award to winning the Penguin Playoffs for the best Linux products. She was named one of BizWomen's 100 National Women to Watch in 2016, has led the Austin Chamber of Commerce's strategy on health innovation as vice chair, and was the founding co-chair of the Austin Healthcare Council.
Prior to joining Dell Med, Kahlon was executive director and chief information officer for the Clinical and Translational Science Institute at the University of California, San Francisco (UCSF), a two-time $200 million recipient of innovation funding from the National Institutes of Health. Kahlon is a graduate of Bryn Mawr College and received her doctorate in neuroscience from UCSF.
Want to Partner with us on a future project?