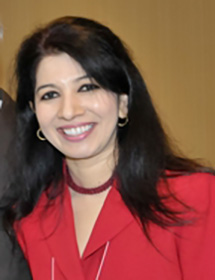 Professor and Chair of Clinical Neuropsychiatry & Behavioral Science, University of South Carolina School of Medicine Columbia
Meera Narasimhan, MD, is a professor and chair in the Department of Neuropsychiatry and Behavioral Sciences at the University of South Carolina School of Medicine Columbia. She serves as senior medical director for Behavioral Health, Prisma Health -Midlands, and as the special advisor to UofSC President for Health Innovations. She also serves on the faculty at the Medical University of South Carolina, Charleston.
Dr. Narasimhan has championed mental health awareness, legislation with patient advocacy groups, mental health initiatives, and telehealth, working with public, private, and academic partners in the state and beyond. She serves on the SC Telehealth Alliance, Palmetto Care Connection Board (Broadband), and the American Psychiatric Association Telehealth Steering Committee. She has received several National Institutes of Health, industry, and foundation grants for clinical, translational, and technology-driven initiatives and is currently evaluating Suicide Prevention Initiatives in the state of South Carolina. 
Dr. Narasimhan has received numerous prestigious national and international awards from several institutions and organizations globally, including the American Psychiatric Association, National Alliance on Mental Illness, Mental Health America, Yale University, American Foundation of Suicide Prevention, American Association of Physicians of Indian Origin, the Indo American Psychiatric Association, South Carolina Department of Mental Health, USC-School of Medicine. In 2014 she received the "Hind Rattan Award," "Jewel of India," an Indian diaspora award for outstanding global achievements. She has championed technology-driven health care initiatives to improve access and affordability, and these programs have been awarded the "Psychiatric Services Achievement Award" from the American Psychiatric Association. She was honored with the South Carolina Community Innovator Award for Telehealth at the SC Telehealth Summit in 2017 and the C3 award for Care, Compassion, and Collaboration from Prisma Health.
Want to Partner with us on a future project?