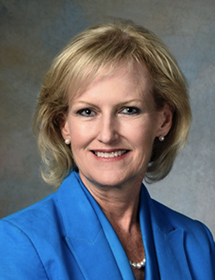 President & CEO, McLeod Health
Donna Isgett, MSN, MBA, serves as President and Chief Executive Officer for McLeod Health. Ms. Isgett joined the McLeod team in 1997 and has focused on fostering a culture of system-thinking to benefit patients, physician and staff engagement, and the pursuit of clinical and service excellence throughout McLeod Health. She has served as the Senior Vice President of Corporate Quality and Safety at McLeod Physician Associates, and most recently, she served as Chief Operating Officer, where she was responsible for oversight of administrators at all seven hospitals in the McLeod Health system.
In addition to her current role as President and CEO, Ms. Isgett serves as Co-Chair of the McLeod Health Quality Operations Committee and as a member of the McLeod Regional Medical Center and McLeod Loris Seacoast Community Boards. In 2021, she was named a member of the Healthcare Executives Study Society (HESS), one of the oldest educational organizations available to healthcare executive professionals. She has also served as the board chair for the South Carolina Hospital Association (SCHA) since 2020, of which she has been a member since 2013. Ms. Isgett has personally been honored by receiving the Milliken Medal of Quality Award from the South Carolina Quality Forum, the Lewis Blackman Patient Safety Award from the South Carolina Hospital Association, the Mary Dean Brewer Women of Distinction Award, the Tribute to Women of Influence award. She earned a BS in Nursing from Georgia State University, an MSN from the Medical University of South Carolina, and an MBA from the Fuqua School of Business at Duke University.
Want to Partner with us on a future project?